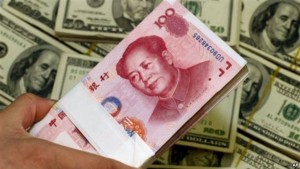 by James Corbett
TheInternationalForecaster.com
March 11, 2015
Forget all the nonsense and hoopla about the Apple Watch or the GM stock buy-back. Far and away the most important economic story of the week is one you won't find on the front page of Bloomberg or MarketWatch. New reports indicate that China is ready to launch its SWIFT alternative, and for those who have their ear to the ground this is the most significant move yet in the unfolding process of de-dollarization that is seeing the BRICS-led "resistance bloc" breaking away from the financial stranglehold of the US-led "Washington Consensus."
For those who don't know, SWIFT stands for the Society for Worldwide Interbank Financial Telecommunication and is shorthand for the SWIFTNet Network that is used by over 10,500 financial institutions in 215 countries and territories to transmit financial transaction data around the world. SWIFT does not do any of the clearing or processing for these transactions itself, but instead sends the payment orders that are then settled by correspondent banks of the member institutions. Still, given the system's near universality in the financial system, it means that virtually every international transaction between banking institutions goes through the SWIFT network.
This is why de-listing from the SWIFT network remains one of the primary financial weapons wielded by the US and its allies in their increasingly important financial warfare campaigns. In 2012, SWIFT agreed to de-list 30 Iranian financial institutions (including the central bank) from their network as part of the US/EU-led sanctions on Tehran, a move that was meant to stop billions of dollars' worth of oil and export sales from being repatriated into the country and bring Iranian business to a standstill. Throughout the recent tensions between the US bloc and Russia over the civil war in Ukraine, the idea that SWIFT could similarly de-list Russian banks has beenrepeatedly floated as a potential next step for the US and its allies.
Of course, SWIFT is nominally "independent" from any government entity and thus does not have to follow the dictates of Washington or anyone else pursuing their own personal vendettas in the financial arena. In practice, however, SWIFT put up no resistance whatsoever and obligingly complied with the Iranian sanctions request despite the fact that the blockade was repeatedly ruled illegal by the EU's own courts. Does anyone doubt that, despite their protestations to the contrary, they would do any different if push came to shove with Russia? This is precisely why Moscow, Beijing and other countries in the cross hairs have been floating ideas of their own, namely the creation of an alternative payment network that bypasses SWIFT.
Now it seems that talk is materializing into something very real. Called the China International Payment System, the CIPS network is meant to facilitate cross-border transactions specifically in yuan and the latest reports suggest that the system is already in place and could be launched as early as this September.
If and when CIPS is launched, the results could be world historical in nature. Firstly it provides the Kremlin and other US/EU/NATO/Israeli enemies a potential alternative safe haven from the crippling sanctions that hang over their head in the current environment. Secondly, it brings the yuan one step closer to being a fully-convertible currency, something that Beijing has beenscrambling to achieve since the currency was rejected from the IMF's SDR basket following the last reconsideration of that basket in 2010. And finally, it further solidifies China as the center of the worldwide "resistance bloc" to the current status quo.
It's hard to underestimate just how important CIPS will be to making the yuan a major player on the global stage. Rather than having to clear yuan payments through correspondent banks in China or through specially designated clearing houses in Hong Kong or Europe or elsewhere, payments will now be nearly instantaneous through any CIPS-listed financial institution anywhere in the world.
Sadly, most alternative news outlets will end their analysis here, as if the creation of this alternate payment system in opposition to the US/EU/NATO/Israeli superpower's hegemon is an unmitigated good. But such an analysis relies on the assumption that the BRICS resistance bloc has motivations and intentions that are truly different than the existing power structure, and not merely rivalrous to it. As viewers of The Corbett Report's podcast on "China and the New World Order" will note, China has been carefully positioned over the course of the past half century to be the "engine of the New World Order" and many of the (nominally) "American" oligarchs and political power-players who helped construct the current status quo have been pupeteering and overseeing the rise of the Chinese dragon since the days of Mao. And as we have discussed before, the players who have been dominating world finance for decades (if not centuries) are not stupid; they are deliberately engineering the West's downfall in order to bring about their dreamed-of world governmental and world financial system.
Now those who are concerned about the US-bloc's superpower status and its seemingly monolithic control over the highly-centralized financial system represented by institutions like SWIFT are being asked to put their faith in an "alternative" system of centralized control that happens to be in the hands of Beijing. But let's imagine that, somehow, in some way, the Chinese Communists were actually artfully deluding the Kissingers and the Brzezinskis and the other paymasters and chessmasters of China's economic "miracle" and actually did intend to use their new-found power for themselves. To what end would they possibly use it? As a series of billboards popping up around Bangkok and other locations in recent months suggest, it is nothing less than to create a "New World Currency" to further consolidate their power on the international stage. Meet the New New World Order, same as the Old New World Order. Either way, all you get is centralized power-hungry tyrants lording over centralized bureaucracies like the IMF, the World Bank, the SDR, SWIFT, CIPS, the BRICS bank or the "people's currency" of the yuan.
But what if there was a truly alternative way around the SWIFT hegemon?
As it turns out, many Iranian banks have circumvented the SWIFT sanction in an almostembarrassingly simple way. Instead of using the SWIFT system to send and receive their payment orders, they simply pick up the phone or send an email. Yes, it is less efficient and takes a bit longer to do, but it works just as well and there's nothing that SWIFT or anyone else can do to prevent banks from communicating directly with one another. Chalk this extremely simple workaround up as another victory for the concept of the "peer-to-peer economy" that we talked about in these pages in recent weeks. When people (or organizations or institutions) can communicate directly, instantaneously and globally, the need for centralized bureaucracies like "SWIFT" or "CIPS" disappears just as assuredly as the horse-and-buggy or the zeppelin disappeared with the advent of the modern car or airplane.
Keep your eye on these pages for more on the CIPS system as it develops, and keep your eye on The Corbett Report podcast for an upcoming episode where I delve into the not-so-happy reality of "The BRICS and the New World Order."
China International Payments System
From Wikipedia, the free encyclopedia
The Cross-border Interbank Payment System (CIPS) is a planned alternative payments system to SWIFT which would provide a network that enables financial institutions worldwide to send and receive information about financial transactions in a secure, standardized and reliable environment. [1]
CIPS would not facilitate funds transfer; rather, it sends payment orders, which must be settled by correspondent accounts that the institutions have with each other. Each financial institution, to exchange banking transactions, must have a banking relationship by either being a bank or affiliating itself with one (or more) so as to enjoy those particular business features.
However, it was reported in July 2015 that CIPS would be '"watered down" and used only for cross-border yuan trade deals rather than including capital-related transactions, which would delay billions of dollars worth of transactions, including securities purchases and foreign direct investment, that would have gone through the system. It was reported to be a second setback to the plan to provide a unified network for settling deals in yuan after technical problems delayed its launch, and that other measures to open up China's financial infrastructure have been dented by the 2015 Chinese stock market crash. It was said to now offer, at best, a complementary network for settling trade-related deals in the Chinese currency to a current patchwork of Chinese clearing banks around the world.[2]
Standards
[
edit
]
CIPS is expected to use the SWIFT industry standard for syntax in financial messages. Messages formatted to SWIFT standards can be read by, and processed by, many well-known financial processing systems, whether or not the message traveled over the SWIFT network. SWIFT cooperates with international organizations for defining standards for message format and content. CIPS would conceivably also subscribe to Registration authority (RA) for the following ISO standards: [3]
In RFC 3615 urn:swift: was defined as Uniform Resource Names (URNs) for SWIFT FIN.[4]
See also
[
edit
]
References
[
edit
]
Cips 'not a competitor' says Swift
Swift was keen to point out that the newly-launched China International Payment System (Cips) is not a competitor. Prior to the launch of the Chinese payments infrastructure, details of the system were scarce. On Tuesday at Sibos, Philippe Dirckx, managing director, head of markets and initiatives, Asia Pacific, at Swift said he wanted to clear up the idea that Cips was a competitor to Swift.
Speaking in the Developing your transaction business with China session, he said: "Cips is a payment system, we are a message provider." He added that Swift has been engaging with the People's Bank of China and advising it on the internationalisation and opening up of the system to the outside world.
Referring to media reports that Cips would compete with Swift, he suggested this was because they had been relying on Wikipedia's description of Cips, which opens that Cips  "is a planned alternative payments system to Swift, which would provide a network that enables financial institutions worldwide to send and receive information about financial transactions in a secure, standardised and reliable environment". The Wikipedia paragraph cites a Reuters story from March 2015 as its source.
The Chinese payments infrastructure removes the need for cross-border payment messages to be translated into Chinese once they reach mainland China. Cips will use the ISO 20022 structured format and will support both Chinese and English. Dirckx said Cips would use the Swift bank identifier code.
China Completes SWIFT Alternative, May Launch "De-Dollarization Axis" As Soon As September
Submitted by Tyler Durden on 03/09/2015 23:16 -0400
http://www.facebook.com/plugins/like.php?app_id=231521786893886&channel=http%3A%2F%2Fstatic.ak.facebook.com%2Fconnect%2Fxd_arbiter%2FTlA_zCeMkxl.js%3Fversion%3D41%23cb%3Df394dcb5ac%26domain%3Dwww.zerohedge.com%26origin%3Dhttp%253A%252F%252Fwww.zerohedge.com%252Ff391e4a94%26relation%3Dparent.parent&container_width=0&href=http%3A%2F%2Fwww.zerohedge.com%2Fnews%2F2015-03-09%2Fde-dollarization-encircles-globe-china-completes-swift-alternative-may-launch-soon-s&layout=button_count&locale=en_US&sdk=joey&send=true&show_faces=false&width=150
One of the recurring threats used by the western nations in their cold (and increasingly more hot) war with Russia, is that Putin's regime may be locked out of all international monetary transactions when Moscow is disconnected from the EU-based global currency messaging and interchange service known as SWIFT (a move, incidentally, which SWIFT lamented as was revealed in October when we reported that it announces it "regrets the pressure" to disconnect Russia).
Of course, in the aftermath of revelations that back in 2013, none other than the NSA was exposed for secretly 'monitoring' the SWIFT payments flows, one could wonder if being kicked out of SWIFT is a curse or a blessing, however Russia did not need any further warnings and as we reported less than a month ago, Russia launched its own 'SWIFT'-alternative, linking 91 credit institutions initially. This in turn suggested that de-dollarization is considerably further along than many had expected, which coupled with Russia's record dumping of TSYs, demonstrated just how seriously Putin is taking the threat to be isolated from the western payment system. It was only logical that he would come up with his own.
There were two clear implications from this use of money as a means of waging covert war: i) unless someone else followed Russia out of SWIFT, its action, while notable and valiant, would be pointless – after all, if everyone else is still using SWIFT by default, then anything Russia implements for processing foreign payments is irrelevant and ii) if indeed the Russian example of exiting a western-mediated payment system was successful and copied, it would accelerate the demise of the Dollar's status as reserve currency, which is thus by default since there are no alternatives. Provide alternatives, and the entire reserve system begins to crack.
Today, we got proof that it is the second outcome that is about to prevail following a Reuters reportthat China's international payment system, known simply enough as China International Payment System (CIPS), which serves to process cross-border yuan transactions is ready, and may be launched as early as September or October.
According to Reuters, the launch of the will remove one of the biggest hurdles to internationalizing the yuan and should greatly increase global usage of the Chinese currency by cutting transaction costs and processing times.
It will also put the yuan on a more even footing with other major global currencies like the U.S. dollar, as CIPS is expected to use the same messaging format as other international payment systems, making transactions smoother.

CIPS, which would be a worldwide payments superhighway for the yuan, will replace a patchwork of existing networks that make processing renminbi payments a more cumbersome process.
In other words, while the west was using every provocation involving the Ukraine civil war as an opportunity to pressure Russia into developing its own cross-border payment system, it achieved not only just that but it also pushed China to accelerate the roll out of its own international payment system, in the process telegraphing to the world that the USD is replacable as a reserve currency and giving any other nations (such as the BRICs) the green light to think of SWIFT as an alternative to either the Russian or Chinese payment system (which with enough political and financial stimulus, they would be delighted to do).
But what is most disturbing is just how quickly the Chinese regime change is coming:
"If it's all smooth, (the launch) will be in September or October. If there is a need for a bit more time, we are still confident about (rolling it out) before the year-end," said the source, who declined to be named because he is not authorized to speak to the media.

The system was expected to be launched in 2014 but was delayed by technical problems, with most market participants anticipating it would not come on stream before 2016.
Needless to say, China will be delighted to have its own unified payment system, one that will further internationalize the Renminbi which at least check had become one of the top five payment currencies in November 2014, overtaking both the Canadian and the Australian dollar based on SWIFT data.
Until now, cross-border yuan clearing has to be done either through one of the offshore yuan clearing banks in the likes of Hong Kong, Singapore and London, or else with the help of a correspondent bank in mainland China.
"Misunderstandings under the current clearing system happen from time-to-time due to different languages and codings. The CIPS is a breakthrough since it will offer a united platform and enhance efficiency," said Raymond Yeung, an analyst at ANZ in Hong Kong.

The launch of CIPS will enable companies outside China to clear yuan transactions with their Chinese counterparts directly, reducing the number of stages a payment has to go through.
It will also make it far more difficult for the NSA to track payments to and from the mainland when such compromised intermediaries as SWIFT are used.
This is how the Mercator Institute for China Studies previewed this major development:
The Chinese government is striving towards a controlled internationalization of China's currency through a step-by-step expansion of the use of the RMB in Chinese foreign trade and investment. Towards this end, a worldwide network of agreements dealing with central bank currency swaps, the direct exchange of the RMB with other currencies, and RMB clearing hubs has been built. The establishment of an independent payment system (CIPS) for RMB transactions and an alternative to the existing SWIFT would further increase China's autonomy vis-à-vis U.S. centred financial market structures.
Finally, as it becomes easier to transact in non-USD terms, it will merely accelerate the adoption of the Chinese Yuan as the primary currency of global trade, or what little is left of it, as opposed to the currency of financial engineering.
Global yuan payments increased by 20.3 percent in value in December compared to a year earlier, while the growth for payments across all currencies was 14.9 percent for the same period, SWIFT said.

China has accelerated the pace of yuan internationalization in recent years. The central bank assigned 10 official yuan clearing banks last year, bringing the total number to 14 globally that can clear yuan transactions with China.
The final observation to make here is that if indeed it was the Obama administration's brilliant ploy to kick out Russia – and by geopolitical affiliation, China – out of a monetary transaction mechanism that is controlled and supervised by the US and force the two biggest challengers to US global dominance into their own (or joint) payment system, then well, congratulations: it succeeded.